Established in 2004, AMA offers the best mixed martial arts training facility and instructors in the Oklahoma City area. We work with new students simply looking to stay in shape and help prepare more advanced competitors to fight in the biggest MMA and grappling organizations in the country.
Recent Announcements:
Academy of Martial Arts is proud to host it's first ever Girls in Gis Event – It will be their 5th Year Anniversary!!!  Big Event!!!  Big Prizes!!! Sunday, Sept. 21, 2014                     
Please join us in Oklahoma city Oklahoma to be a part of the largest event we've ever had in our history! Please register at www.girls-in-gis.com/blog/girls-in-gis-5th-anniversary-mw-oklahoma-city-ok to participant and enter contests for giveaways.
The Girls in Gis 5th year anniversary celebration event will take place at three locations in three states; Texas, Colorado and Oklahoma. We will have giveaways from our sponsors and lots of special treats.
All GIG events are 100% free and open to women and girls of all ages, skill levels and any or no academy affiliation. GIG events are by females for females. All women and girls are encouraged to participate. Our events are designed for 100% participation. However we do allow female chaperones to accompany participants as spectators. Our hope is that once they see how much fun BJJ is they will be inspired to participate too, but no pressure. If you have any questions, feel free to contact
us.
At the Girls in Gis MW-OKC OK event we have partnered with City Rescue Mission to raise much needed in-kind donations (food, clothing, personal hygiene items, school supplies and medical supplies). Please visit their website to view full wish list items. www.cityrescue.org/give/donate-goods Please help us help this cause at Girls in Gis Midwest-OKC OK on September 21st.
GIG Midwest-Oklahoma City OK will be hosted by AMA's own Tiffany Whitmire!
For Participation and to register for these awesome prizes, please visit www.girls-in-gis.com/blog/girls-in-gis-5th-anniversary-mw-oklahoma-city-ok
Prizes (so far) include: Phalanx, Detales, Kozamurai Apparel, Club Boost, Rockin' Green, DFKC, She Jitsu, and AGF!!!
The Martial Arts Expo is Coming to AMA!!
Academy of Martial Arts hosts THE Martial Arts Expo 2014: Oklahoma City. Join us for an AMAZING event this October 18th and 19th. Joining our Lineup: Master Carlos Machado, Ajarn Greg Nelson and more. Put it on your calendar NOW and take advantage of this opportunity. Instructors are FREE with 5 paid students.  This is a must for any martial artist looking to expand their game!!  AMA is proud to host these Living Legends with The Martial Arts Expo!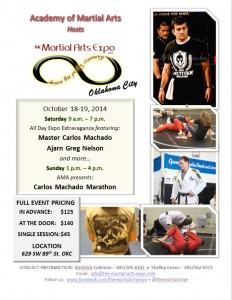 For a limited time only AMA offers Groupon Deal!!!
Academy of Martial Arts is excited to run our first ever Groupon Deal!! This is an outstanding opportunity to try out our wide range of classes at an extremely discounted price!!! $45 for one month or $99 for 3 months! What a deal!!!!
To take advantage of this deal, please purchase through Groupon.com and bring your paperwork (or show your app) to AMA! Groupon is good for any and all group classes on our schedule! Individual lessons are available as a separate purchase.
To purchase Groupon Deal, please click here