Established in 2004, AMA offers the best mixed martial arts training facility and instructors in the Oklahoma City area. We work with new students simply looking to stay in shape and help prepare more advanced competitors to fight in the biggest MMA and grappling organizations in the country.
Recent Announcements:
Academy of Martial Arts is proud to host it's first ever David Jacobs Seminar!!!  June 29th, 2014!!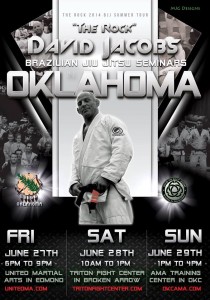 June 29, 2014 is a date you want to be sure you have marked on your calendars!!  AMA is proud to host David "The Rock" Jacobs in a 3-day OK Tour!!  He'll be stopping by Academy of Martial Arts on June 29th from 1-4 pm!!  He has said he'll showing us some outstanding Jiu Jitsu techniques and live grappling afterwards!!  Cost of this seminar is only $50 and we do offer pre-pay for reserve your space!!  Call 405-205-6342 to get more details!
For a limited time only AMA offers Groupon Deal!!!
Academy of Martial Arts is excited to run our first ever Groupon Deal!! This is an outstanding opportunity to try out our wide range of classes at an extremely discounted price!!! $45 for one month or $99 for 3 months! What a deal!!!!
To take advantage of this deal, please purchase through Groupon.com and bring your paperwork to AMA! Groupon is good for any and all group classes on our schedule! Individual lessons are available as a separate purchase.
To purchase Groupon Deal, please click here