AMA Hosts David "Rock" Jacobs on August 1, 2015!
Academy of Martial Arts is proud to host David "Rock" Jacobs as he gifts us with his extraordinary BJJ Knowledge once more!!! Simple BJJ techniques guaranteed to improve your BJJ game at any level! All affiliations welcome and all levels of expertise welcome!!
Cost for this AMAzing seminar is only $60! Pre-registration is available on location or by phone at 405-205-6342. Feel free to call or email for more details!
Excited to see you all again!!
AMA Celebrates Renato Tavares Association 10th Anniversary with seminar on June 13, 2015!
All participants to register prior to May 29th will receive a special 10th Anniversary T-Shirt!  Call 405-205-6342 to reserve your space today!
AMA to Compete at NAGA Feb. 25 event in Oklahoma City
The Academy of Martial Arts is preparing for another strong showing at the upcoming North American Grappling Association's February 25 event in Oklahoma City.
AMA won the NAGA no gi team championship at the same event last year in Dallas and had several students place in their individual divisions. Once again AMA will bring a strong team of talented students to represent the school and show why it is one of the top mixed martial arts and Brazilian Jiu Jitsu training centers in the Midwestern United States.
For more information on the event, go to the NAGA website.
Sept. 14, 2013 Seminar with Brazilian Jiu Jitsu World Champion Renato Tavares
Although cross-training is now the norm for mixed martial arts, the sport still owes a huge debt of gratitude to Brazilian Jiu Jitsu, the submission grappling art form perfected by the Gracie family that helped launch the Ultimate Fighting Championship. And you won't find many people who can teach more about the discipline than famed world champion Renato Tavares, who received his black belt from the legendary Carlson Gracie and currently teaches at an American Top Team affiliate in Vero Beach, Fla.
Along with his grappling talent, Tavares has also competed in mixed martial arts against some of the best professional fighters in the world, including former World Extreme Cagefighting champion Mike Brown and Japanese submission master Masakazu Imanari.
AMA will host a seminar with Renato on Sept. 14th from 11am to 2pm. For $60, don't miss this chance to learn from one of the best BJJ practitioners in the world.
To reserve space for you now at this outstanding opportunity, please clink the link below:
AMA to host Pan-Am Champ on May 10th!!

Once more, AMA is proud to host the 2014 Pan-Am Championon May 10, 2014. For only $60 you can work with Renato Tavares for 2 hours in our state of the art facility!  As an added bonus, Master Tavares has agreed to conduct individual lessons, by appointment only, after the seminar!!  If you are interested in scheduling a lesson, please call 405.205.6342.  These lessons can be split with a friend for a small additional cost.  Please call for details.  Prepayment by debit or credit card is accepted by phone at 405.205.6342.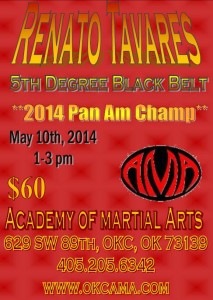 For a limited time only AMA offers Groupon Deal!!!
Academy of Martial Arts is excited to run our first ever Groupon Deal!! This is an outstanding opportunity to try out our wide range of classes at an extremely discounted price!!!  $45 for one month or $99 for 3 months! What a deal!!!!
To take advantage of this deal, please purchase through Groupon.com and bring your paperwork to AMA!  Groupon is good for any and all group classes on our schedule!  Individual lessons are available as a separate purchase.
To purchase Groupon Deal, please click here
AMA assist the Boys and Girls Club of Oklahoma County annually!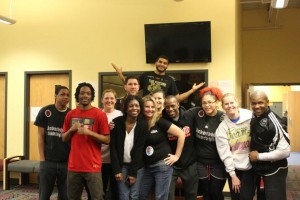 In 2014 we were proud to host Girls in Gis!  We look forward to hosting them again soon!!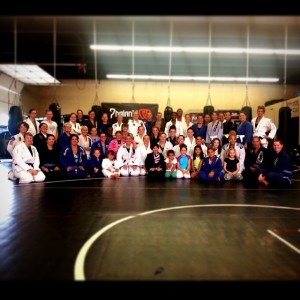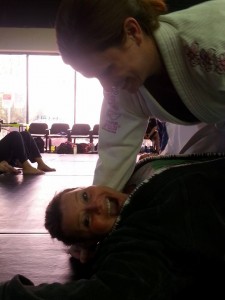 As a team we participate in many events!  AMA is Family!!!